As a developer myself, I have always struggled to find the right tool that will ease out my tasks and help me speed up simultaneously, especially since I want a tool that is congruent with Markdown. Markdown is a lightweight markup language that allows you to write and format text efficiently, making it an essential tool for various professionals.
In recent years, Markdown has gained immense popularity among developers, technical writers, and anyone who needs to create well-structured documents. Mostly because Markdown helps you improve your efficiency. It is easy to read and write, helps you convert plain text into HTML, and is extremely simple to use. If you're a Mac user looking for the best markdown editor in 2023, you're in luck. I have compiled a list of the top 7 Markdown editors for MacOS.
Let's dive in!
The 7 Best Markdown Editors for Mac
I am sure you have tried several Markdown editors, but since you are still searching for the best one, I am certain that neither of those gave you satisfactory results. So here are 7 Markdown editors for Mac, which I have personally tested before listing them for you. So, I am confident you will find your favorite markdown editor in this list.
ERA: Simple, fast, and privacy-first
ERA is a lightweight desktop application designed specifically for developers who need a simple and efficient note-taking solution. ERA uses Markdown, a file format supported by major platforms like GitHub and Reddit, making your notes accessible and shareable across multiple applications. The intuitive user interface is distraction-free, allowing you to focus on your work, making ERA the ultimate solution for seamless note-taking and efficient knowledge management.
Privacy-First
Privacy is a top concern for many users, especially for software developers who often work with sensitive data. With a focus on privacy, ERA stores all your notes locally on your device, ensuring complete control over your data and secure storage of sensitive information such as code snippets and project/company data. ERA's local storage approach ensures that your notes and drafts are stored securely on your own device, rather than on a third-party server where they may be vulnerable to security breaches or data misuse.
Focus mode
ERA's ultra-focus mode helps you reduce distractions allowing you to go into a state of deep focus. In the latest ERA 2.0 version, there is this feature where with one simple shortcut, you can disable the toolbar and sidebar and just focus on your task at hand, minimizing all the distractions. This is exactly the kind of feature we need in the 21st century, and that is why ERA is everyone's all-time favorite.
Pricing
ERA is an extremely affordable tool with $19 for a lifetime subscription and $29 for ERA plus with ERA lifetime plus added benefits like priority support.
Typora: A minimalist's dream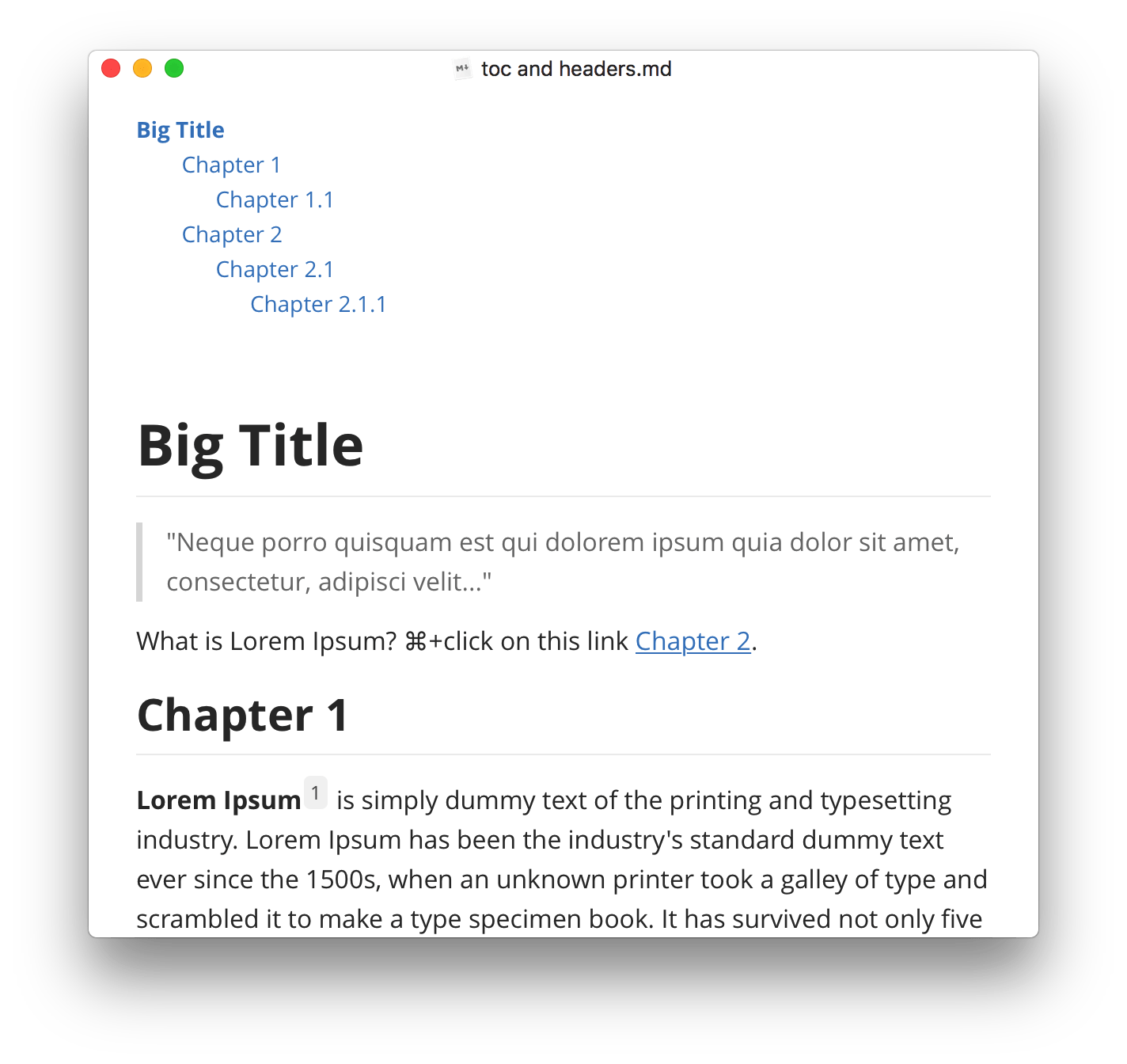 Typora is a popular choice for those seeking a minimalist and distraction-free Markdown editor. Its unique WYSIWYG [What You See Is What You Get] approach allows you to view your formatted text in real time, making the editing process seamless. Typora supports a wide range of export formats, such as PDF, HTML, and Word, and offers customizable themes to suit your preferences.
MacDown: Open source and feature-rich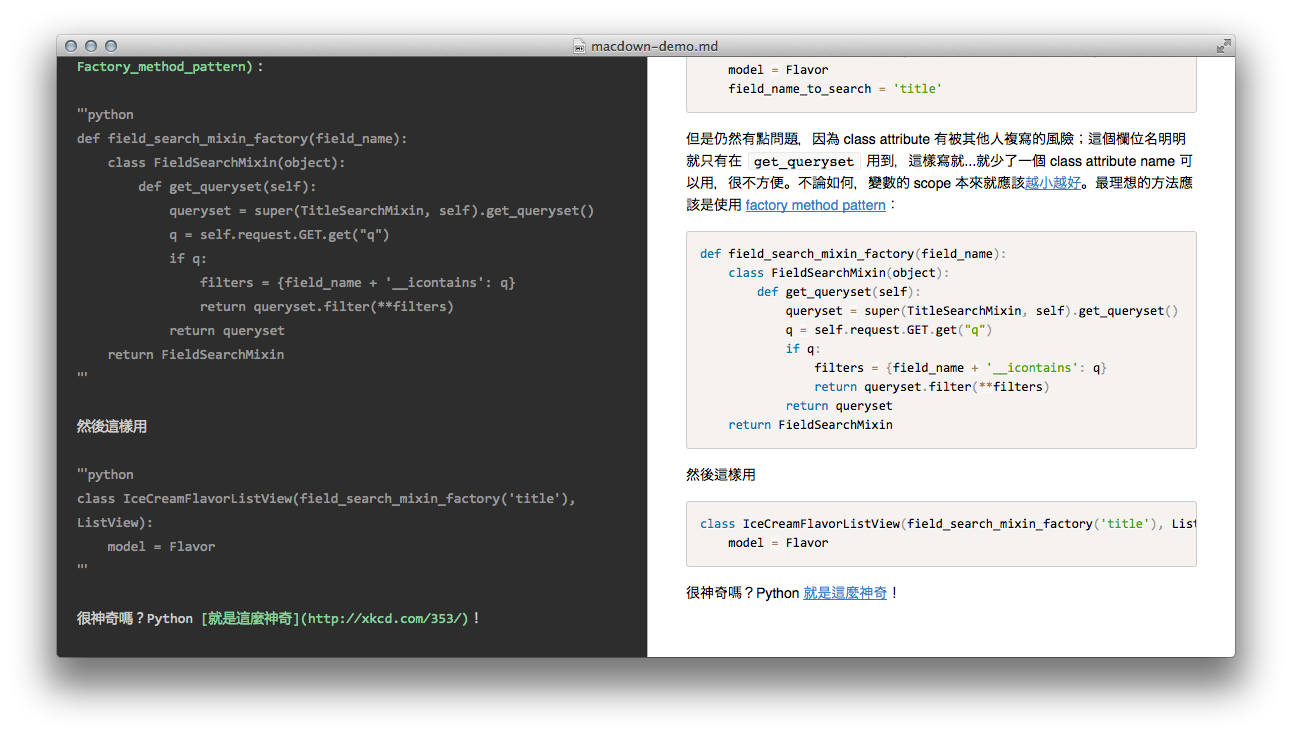 MacDown is a free, open-source markdown editor for Mac that boasts an impressive array of features. With live preview, syntax highlighting, and customizable themes, MacDown makes it easy to write and format your documents. Its open-source nature means you can contribute to its development or tailor it to your specific needs.
Bear: Elegant and versatile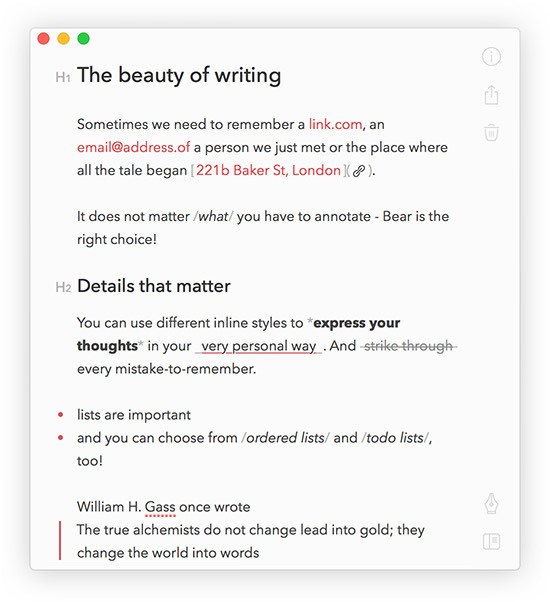 Bear is a versatile Markdown editor for Mac that combines elegance with functionality. Its clean interface, coupled with powerful features like tagging, cross-note linking, and a robust search function, make Bear an excellent option for organizing and managing your notes. While the core features are free, a subscription is required to unlock advanced features like cloud syncing and exporting to multiple formats.
iA Writer: Focused and distraction-free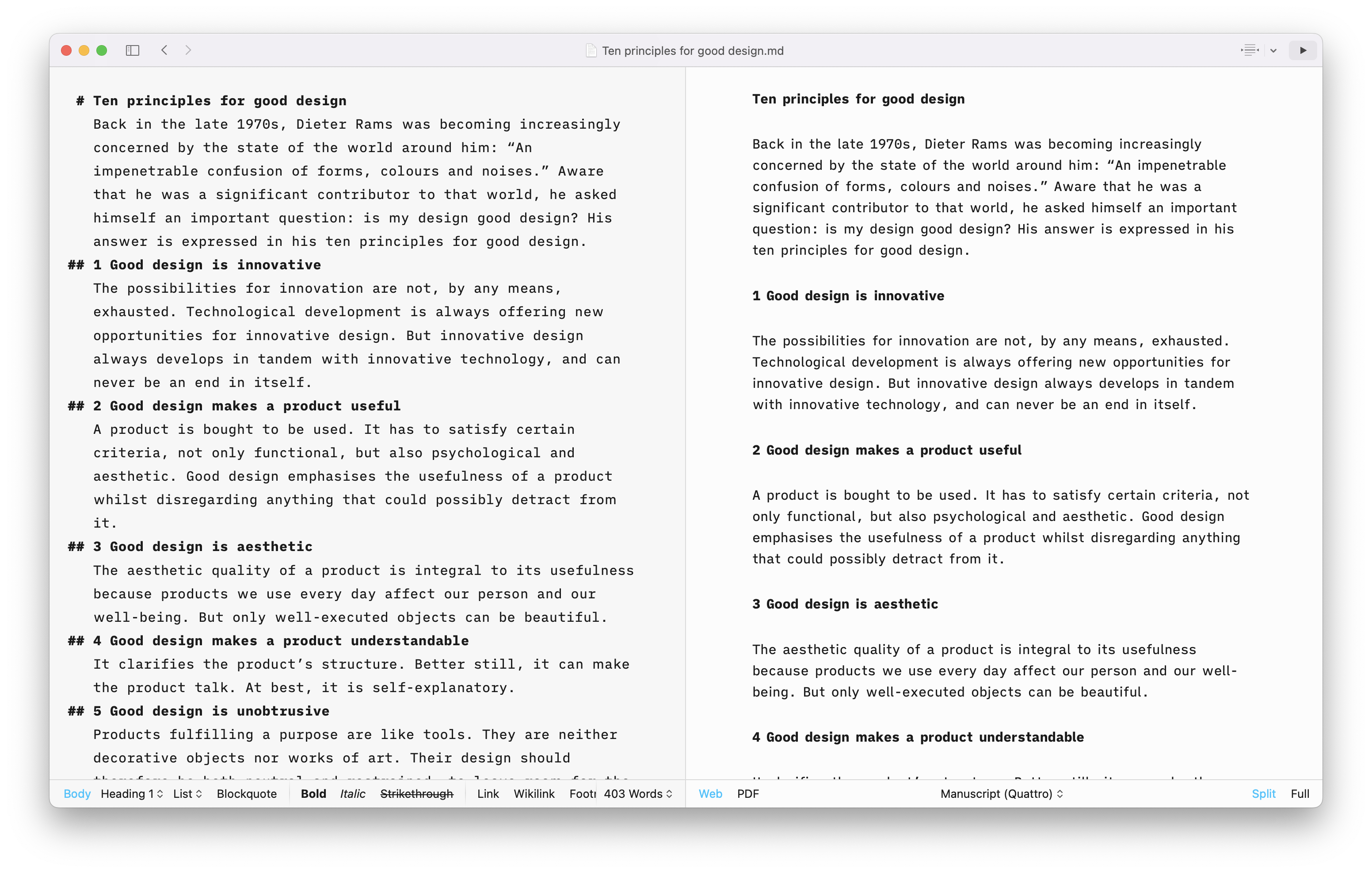 iA Writer is a well-known markdown editor for Mac, designed to help you focus on your writing by removing distractions. Its signature feature, "Focus Mode," dims everything except the current sentence, allowing you to concentrate on your work. With a customizable interface and support for various export formats, iA Writer is a solid choice for writers who value focus and simplicity.
Inkdrop.app: Note-taking meets markdown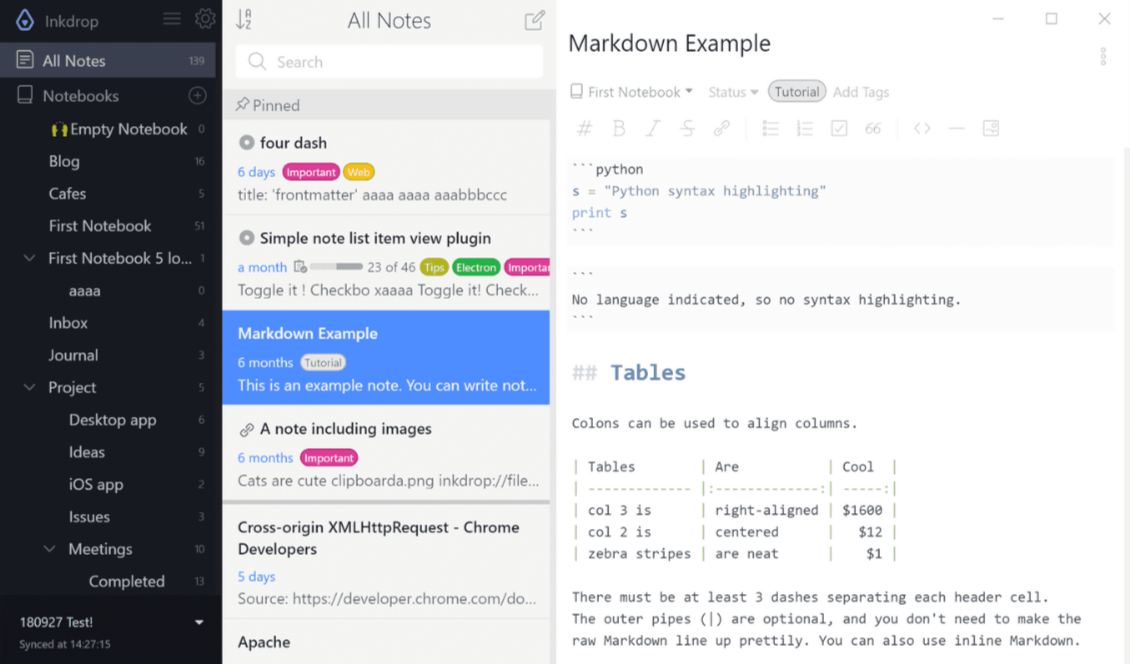 Inkdrop.app is a note-taking app that seamlessly integrates with Markdown, making it an ideal choice for Mac users who want to write and organize notes using Markdown syntax. Inkdrop.app offers various features such as tagging, a robust search function, and a distraction-free writing mode, making it an excellent choice for researchers, writers, and students.
Obsidian.md: Knowledge management and markdown editor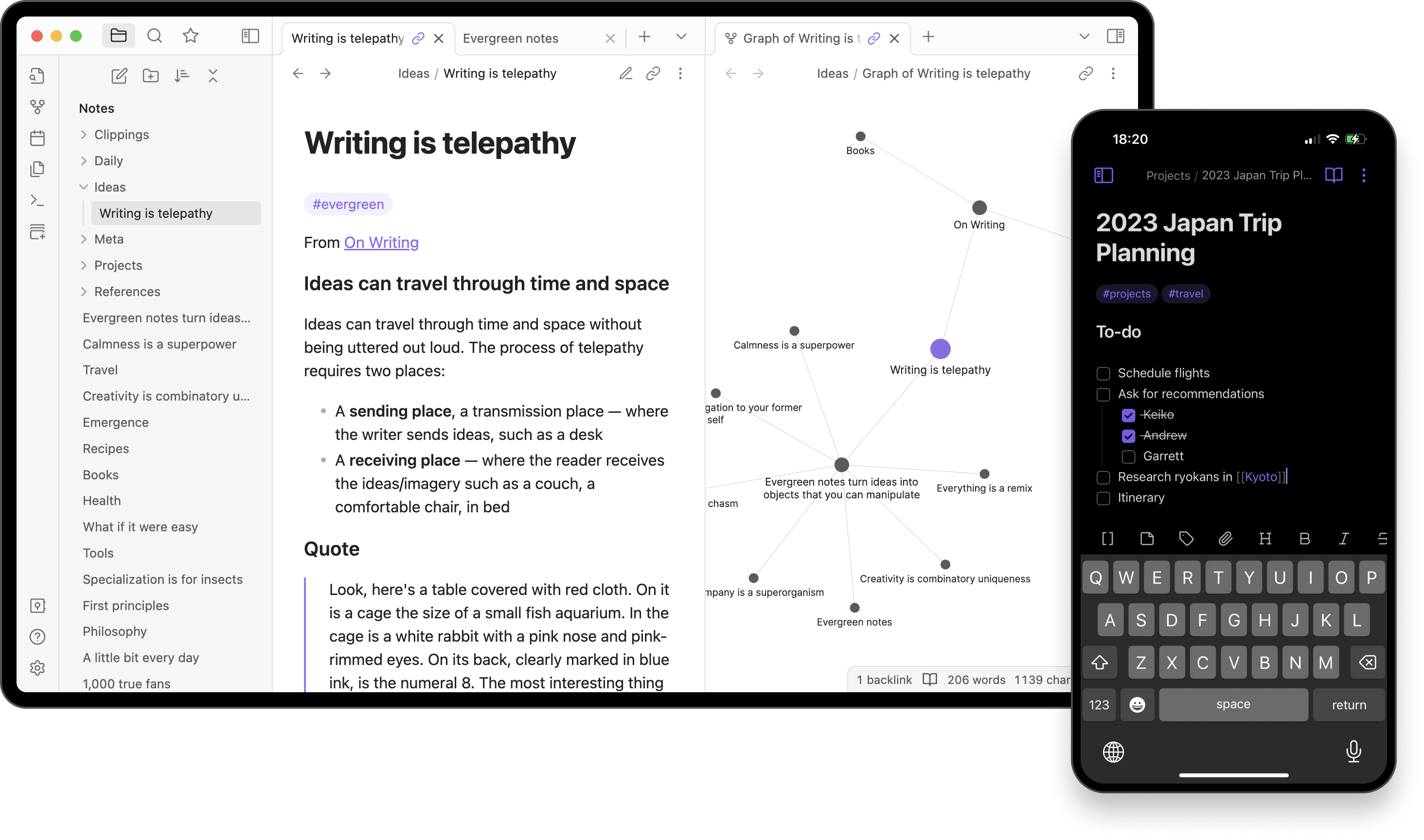 Obsidian.md is a knowledge management app that doubles as a Markdown editor for Mac users. Its unique feature is its ability to create a network of interconnected notes, making it an ideal choice for users who want to keep track of their ideas and thoughts. Obsidian.md offers various features, such as linking, graph visualization, and customizable themes, making it an excellent choice for knowledge workers, researchers, and writers.
Start taking technical notes faster with Best Markdown Editor!
Whether you're a software developer, technical writer, or simply someone who needs an efficient way to create well-structured documents, there's a Markdown editor for Mac that suits your needs.
Our list of the top 7 Markdown editors for Mac in 2023 caters to various preferences and requirements. From minimalistic interfaces to comprehensive writing suites, these tools will help you streamline your writing process and enhance productivity. Hope you loved exploring these options and are all set to start with the perfect Markdown editor for Mac to elevate your writing experience and development flow.